This is the last in my eight-day series – Marketing Lessons from Walt. As my family and I enjoy Walt Disney World, I'm going to capture some of the marketing genius that I believe began with Walt's passion and has now grown into one of the world's most powerful brands.
On the road to every sale there are barriers. It might be price, or timing or who knows what. A smart marketer removes as many of the barriers as they can anticipate. Disney is a master at this. Throughout their theme parks, there are shops. Lots and lots of shops. You can buy anything from t-shirts to works of art and just about everything in between. Hauling those packages around with you all day is a pain. And could deter many a purchase. But never fear…Disney has lots of options.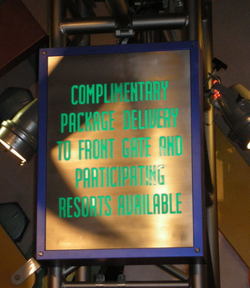 You can have the packages delivered right to your Disney resort
You can have the packages shipped home
You can have your packages sent to the front of the park and pick up your treasures on the way out
You can rent a locker and put your packages there
You can take one of the business cards, jot down the item number and call later to order it
What barriers keep your customers from buying? What have you done to remove them? Do your customers know?
Marketing Lessons from Walt – The Series: