This is the seventh in my eight-day series – Marketing Lessons from Walt. As my family and I enjoy Walt Disney World, I'm going to capture some of the marketing genius that I believe began with Walt's passion and has now grown into one of the world's most powerful brands.
Most organizations expend 95% of their marketing efforts chasing after potential business. Once a client is in the door, it's onto the next. Chalk up the win and go after the next big fish in the pond, right?
Not so fast my friend. It's your current clients who keep your doors open. And are the most likely to give you new opportunities and sales. Disney understands while its great to get new faces into their theme parks, they need to reward those most loyal guests as well. One way they do this is by extending park hours to those guests who are staying in a Disney owned resort.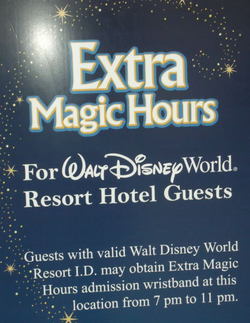 With a special wrist band, Disney resort guests can enjoy the most popular rides and attractions without long lines. There's an air of exclusivity at being able to wave your wrist band and stay to play another few hours. It sure makes us glad we're staying where we are.
How do you reward your current clients? How do you make them feel special and valued? Are you sure they know about the little extras you give them? Don't be so sure. It may not be a wrist band…but be sure you find a way to reward your good clients and make sure they know they're appreciated.
Marketing Lessons from Walt – The Series: