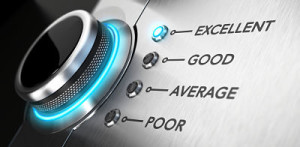 The concept of creating a memorable customer experience is nothing new. Companies like Disney, Zappos and Ritz Carlton have become famous for how their customers rave about doing business with them. Who doesn't know the famous Ritz Carlton line "we are ladies and gentlemen, serving ladies and gentlemen?"
So the concept has been around for a while, but I predict it will take on new importance in 2014 and beyond. The digital fishbowl that every business lives in today makes every nuance of every interaction a potential powder keg. It used to be that focusing on the customer experience was what the big companies did or how the top 10% thought differently than everyone else. But today it's not a nicety; it's a necessity.
Here's why:
Because one slip up can cost you plenty. Your customers possess the ability to skewer you with a single Facebook post or online review. It seems as though people are rather quick on the social media draw when it comes to taking a shot at a business that has done them wrong.
Just this last week, one of my Facebook friends shared a bad restaurant experience. At the beginning, she did not reveal the name of the establishment, but as people told their own stories and started trying to guess where she had been, she finally revealed it. Others started chiming in with their own horror stories about the place.
Guess what – I'm never going to eat there. Small example but it's happening every day to companies big and small.
You know more, so they expect more. Thanks to all of the digital data we now collect, the databases we can build (whether we do or not), the very public lives people live and how easy it is to be connected to a business through social media, e-newsletters, websites, actual interactions etc.
Whether we've been paying attention or not, our customers are telling us more about themselves every day. They like our Facebook page updates or they redeem a certain offer. They choose to attend our business after hours event or they refer a friend. In every one of those actions is data. The question becomes – what are we doing with what we learn?
If we don't create an amazing experience, someone else will. Let's say you don't own a computer and neither do your customers. (I know…fat chance, but go with me here) Unless you have no competition – all of this still pertains to you. You cannot compete if you don't delight. You may not be at risk for the cyber blasting that review sites and peer networks allow for but you're still fighting for their business every day.
Someone will figure out a way to make the transaction helpful, easy and/or fun. This affords them two things. First, it gives them the crack in the door to get in with your customer and eventually, steal them away. Second and perhaps even more annoying, it allows them to charge a premium price. So not only will your customers ditch you, but they'll also pay your competitor more.
I don't care if your product or service is better. I don't care if your product or service yields better results. The truth is, people will settle for a good enough product or service if the experience of acquiring it is special enough. You cannot rely on just being better.
Right or wrong — your customer is judging you every step of the way. And deciding if they're coming back for more based on that interaction.