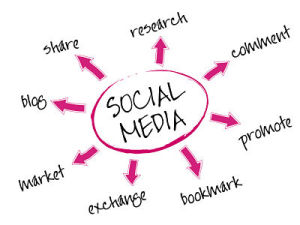 If your company is involved in social media, one of the elements you worry about is if you're sharing in the best way. You want to maximize your company's exposure but choosing the best social networks, the best way to communicate and even the best time of day.
Your blog content:
If you aren't using your corporate blog to fuel your social media strategy, you are almost certainly not as effective and efficient as you could be.
If you are sharing great content on social networks that doesn't exist on your blog or content hub, you are missing out on a huge SEO opportunity. If your content is on your blog, it will generate links and social indicators (likes, shares, +1s, etc.) that will benefit your website's domain.
Blog content is permanent – social content is not. Let's say that you posted a great tax tip on Facebook that received hundreds of Likes. When tax time comes around next year, that post will be long gone. However, if you post the tax tip on your blog, you can re-share it year after year. In addition, the tip will be indexed by the search engines and will likely drive search traffic as well.
Social sharing:
How you share content influences the your audience's reactions. Here are some suggested copy do's and don'ts as you compose your next update.
11-15 words is the sweet spot for Twitter (about 100 characters), and you're safe to use up to 25. Go any shorter, and your message will likely lack enough information to draw people in.  But you want to leave enough "open real estate" so you your audience can re-tweet or comment.
LinkedIn postings should aim for 16-25 words, but you are safe to go shorter if necessary.
Messages on Twitter and LinkedIn receive significantly more clicks if they use a hash tag.
Using a number (i.e. 4 smart ways to work with your attorney) generate  more clicks on Twitter.
Social timing:
It's not just what you say, but when you say it.  Timing your social sharing matters.
Want to get some social love on LinkedIn? Be sure to share your content on Sundays, which delivers more clicks that any other day of the week.
Facebook content does well around lunchtime and later in the afternoon. This is because many people get on Facebook during lunch and towards the end of the workday.
Schedule tweets between 10am and 2pm. Many people check their Twitter stream after they settle into the office, but they are less likely to check it once they start wrapping up for the day.  There's another spike of activity in the evening, when everyone checks back into their social networks.
Twitter and LinkedIn content are both more likely to be consumed during the top and middle of the hour. This is likely due to the reader's need to check their feeds in between meetings.
Again – keep in mind that these are good rules of thumb, but your industry, audience and experiences may vary. The key is to actually look at your analytics and identify the patterns so you can be as effective as possible in your own social sharing strategy.