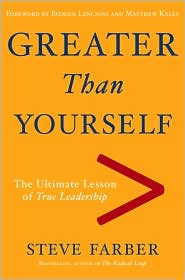 I don't ask the question lightly.  It's no small commitment.  To genuinely be a leader, you have to go far beyond reaching your organizational goals or profitability targets.
To be an extreme leader, you have to be ready to love.  As my friend Steve Farber would say…
"Real leadership is an extreme act rooted in love and motivated by a desire to create a better world…Truly great leaders in life become so because they cause others to be greater than themselves."
In today's world…we need those kinds of leaders more than ever.  Do you have what it takes to be one?
That's the challenge that Steve's new book, Greater Than Yourself puts on the table for all of us.  In a style that is uniquely his, Farber's business parable takes on a journey we won't soon forget.  Like his earlier books, Radical Leap (my vote for best leadership book) and Radical Edge — this book moves at an incredible pace and you'll find yourself completely enveloped in the story and the lessons within.
It's not just a feel good or inspirational read.  You'll find actionable steps that will lead you to putting the book into practice.
There's also free resources to help you get started at the Greater Than Yourself website.  Be sure you watch Steve's video interviews with Patrick Lencioni (The Five Dysfunctions of a Team, The Three Big Questions for a Frantic Family), and Matthew Kelly (The Dream Manager, The Rhythm of Life: Living Every Day with Passion and Purpose) and his own GTY project partner, Tommy Spaulding.
Get the book today.  Pay for the super fast shipping.  Then, prepare to be different and better leader.
I have three copies of the book to give away.  To enter, leave a comment and if you will — tell us about someone who lifted you up to be even better than you were.
Update:  Congrats to our book winners — Chris O, Peter K and Janet G.