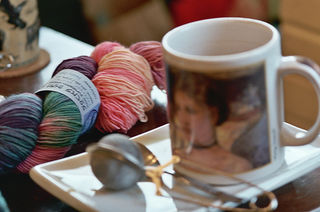 Drew's Note:  As I try to do every Friday, I'm pleased to bring you a guest post.  Meet another  thought leader who shares his insights via the blogosphere. So without further ado…Peter Korchnak.  Again. Enjoy!
How can small businesses build strong brands?
If brand is the sum of expectations and experiences, designing customer experiences is central to branding.
For three essential steps toward a successful and sustainable small business brand, consider Twisted, a yarn store in Portland, Oregon.
I toured the store with soon-to-be customer "Wonks R Us" Eva Schweber. Emily Williams, who co-owns Twisted with Shannon Squire, greeted us, offered to help, and eventually found a moment to chat.
Step One: Plan, plan, plan
In Emily's words, "We are both willing to work like the dickens and we share a common vision for the company. Although neither of us had business experience, careful, even obsessive, planning has served us well in avoiding many pitfalls. We're doing great." Enough said.
Step Two: Understand your customers
"Our customers are people like us," Emily said. "The new wave of knitters, people who are connected, blog, tweet, network online, download projects from Knitting Daily, and generally keep track of what's hot in yarns. We love serious knitters – people who call themselves knitters, rather than just people who knit."
Step Three:  Design a consistent individual and community experience
Brick-and-mortar Twisted
The front of the store hosts a living room space where customers sat in couches around a coffee table, knitting and chatting. Some sipped on one of the many teas, including custom blends like Battlestar Galactica and Dr. Horrible, available from the tea bar. Others took advantage of free wi-fi.
Yarn here is a means, not an end. Twisted communicates benefits, not features: while most yarn stores stock wares by color, fiber or weight, the organizing principle here is purpose: socks (The Great Wall of Sock Yarn), baby clothes, and scarves/sweaters/hats. Twisted prefers natural and local products, and carries a limited yarn assortment. Accessories, kits, supplies and literature have dedicated racks and shelves.
Around the store, fliers announce Twisted classes ("Basic hat class", "Continental knitting"), and events ("Open Knitting",  "Queer Knitting Night"). As Emily confirmed, "We love to interact with our customers."
Twisted online
According to Eva, "Twisted has an amazing online word-of-mouth." A simple, clean, and informative website anchors Twisted's online presence, with add-ons like an e-newsletter and a blog. Twisted is also on Twitter. Most importantly, Twisted has its own lively 392-strong group on ravelry.com, a closed social networking site for knitters, where members share projects, exchange advice and photos, and discuss updates on products or patterns. The Twisted website proclaims, "[Ravelry] is the best thing ever!"
Twisted visual identity
Emily and Shannon decided early on that their company's look should reflect their brand, not define it. "People shouldn't notice the logo," Emily said. "Our visuals should be organic to the entire experience with our brand."
The store's interior exudes a friendly and relaxed atmosphere, feeling welcoming and warm on this January evening. As I was leaving, mere 94 minutes after I, a non-knitter, first arrived, Eva and Emily were still conversing about knitters and projects they both knew, and a couple pulled up chairs to join the knitting circle.
Peter Korchnak is the principal of Semiosis Communications, a sustainable marketing company based in Portland, Oregon. As the writer of Sustainable Marketing Blog, he champions branding through customer experiences and community building as a marketing strategy. He's one of the 100 co-authors of "Connect! Marketing in the social media era" out on Blurb.com on April 6, 2009.
.
Every Friday is "grab the mic" day.  Want to grab the mic and be a guest blogger on Drew's Marketing Minute?  Shoot me an e-mail.
Image credit: "pretty socks that rock at twisted" by cafemama