…and raise money for the children of Variety.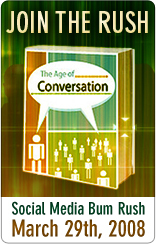 Here's what we need you to do:
Today, Friday the 28th:
1. Go to Fresh Peel and Digg the post about the Bum Rush we're doing tomorrow. We are trying to get pushed up the list as high as we can. It will take you less than 5 minutes.
2. Write a post about the Bum Rush, the children of Variety and the great book. Include this specific link to the Amazon listing please. (http://tinyurl.com/2drj2x)

Tomorrow, Saturday the 29th:
3. Go to Amazon via this link (we make extra money if you use this link) and buy a copy of Age of Conversation. If you are going to buy more than one copy (which you really should…great gift for clients or employees!) please buy them one at a time, or your purchase does not count!
4. Join Gavin, Chris and I as we give a Bum Rush play-by-play on Twitter. (Follow us: @Freshpeel, @DrewMcLellan, @servantofchaos) We also ask that everyone saying anything about the Bum Rush to use the code #AOC so that it can be picked up by Twemes.com
We need your help to make this work. Basically, buy everyone buying a copy on March 29th, we will push Age of Conversation up Amazon's charts, which will get other people's attention and hopefully encourage them to buy. Wouldn't it be cool if Age was the #1 selling book on Amazon that day?
Please help us make this day a huge success for Age and for the kids of Variety.
Update: After an entire day of effort on many, many people's parts — we took Age of Conversation to #36 on Amazon's Best Selling Business books and #262 on their overall Best Sellers list. That's amazing!!
Special thanks to Chris Wilson of Fresh Peel. It was his brainchild and he did the lion's share of the work. Thanks to everyone and anyone who tweeted, blogged or talked about the Bum Rush. Special thanks to everyone who bought a copy of the book.