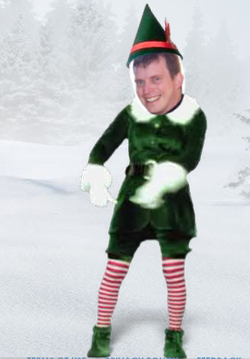 No, I'm not really polling you about your pre-holiday state of mind. (I won't ask if you don't!)
But this holiday season, you can fashion yourself as an elf, scrooge or even a chipmunk! Viral marketing campaigns that allow people to add their own voice or picture and share them with their friends is all the rage.
Check out these interactive campaigns.
Feeling the season? Turn yourself (or a friend) into an elf. (check out this crazy elf!)
Feeling a little bah humbug about the holidays? Turn yourself into scrooge.
Remember sucking helium from a balloon? Turn your voice into a chipmunk's.
Love football this time of year? How about doing your own victory dance?
So here's the real question. These campaigns drive a lot of traffic to your website. They're sticky, funny and very viral. Are they about branding? Does it make you want to buy stuff at OfficeMax or drink CokeZero? Or see the new movie?
Do you think certain products, services or companies can benefit more from this sort of campaign?