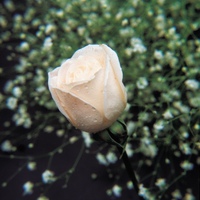 Today, in terms of milestones, is a big day at our house.  It's our daughter's first homecoming dance.  So we've been a blur of appointments — nails, hair and make-up.  Each and every decision has been painstakingly made. 
Since she is going with a gaggle of girl friends, I thought it would be nice for her to have a corsage, even if it is from her dad.  So while she was having her hair done, I slipped out to pick up the corsage of three white rosebuds I had ordered.
A family (a dad about my age and 5 kids ranging from wobbly toddler to teenager) absentmindedly cut in front of me at the florist counter.  I'm not even sure they saw me there. While a second clerk came up to find my order, I heard the original clerk ask the man if she could help him.  He said, "We need to order some flowers for a funeral."  The clerk asked, "Who is the funeral for?" and he replied in a very muted voice, "my wife."
One of his children, a little girl around 10, tugged on his sleeve just as the clerk was holding out my daughter's corsage for my approval.  The white rosebuds were perfect and I nodded but my heart and attention were still on the family to my right.  The dad leaned over to find out why his daughter was tugging on his sleeve and she softly told him, "I want to get mom some white roses."
My only goal at that point was to get out of the store without tearing up.
As I help our daughter with her corsage of white roses tonight, I am going to say a little prayer of thanks for our fun-filled milestone and for the family who bought white roses for an all-together different reason.
And if I tear up it won't just be because my little girl is growing up.