If you haven't had a chance to read the backgrounder, you can find it on the BrandingWire's site.
For this exercise, I am going to stay focused on the brand position and not dig into tactics of execution. 
Many of the natural benefits you might gravitate to as you think about branding Estes Park, are unfortunately a duh in Colorado.  The scenery is breathtaking. Just like it is in Vail and Copper Mountain.  There's lots of wildlife to see in the rustic setting.  Same thing is true of the Rock Mountain National Park and Winter Park.
Great fishing, hunting, and hiking. Again, duh.  I'm not suggesting that their marketing materials ignore these factors but none of them can occupy the brand position. They just aren't unique enough. 
As I read through the information and reflected on my own trips to the area, I noticed some of the more thorny details that make Estes Park a tough sell compared to some of the more posh ski areas like Sundance, Vail or Aspen.  Unfortunately, those are also the things that make them different from the more polished tourist areas.
So I thought it might be interesting to think about how to take the negatives and use those to our branding advantage.  Let's take a brief look at each.
Limited access:  From October to May, Trail Ridge Road through Rocky Mountain National Park is closed.  Many of the stores close for the winter season or only keep weekend hours.  As a result, they have a very short season.
Not a lot of glitz:  When something thinks Colorado resort area, we immediately conjure up a Vail or Aspen experience with their high end shops, glitzy clubs and celebrity sightings.  Estes Park couldn't be further from that image with its taffy and t-shirt shops.   There are a few higher end stores but the spending per visitor is much lower in EP than other mountain areas.
One of their biggest claims to fame are the horse shows that are a part of their tradition.  Even these are very down to earth productions.  Again, a complete lack of glitz.
2 road town:  Estes Park's "main drag" is two roads that stretch out long enough for the merchants to line up along the sidewalks.  It's also the main thoroughfare for the town.  I can remember the first time I got to Estes Park's business district my reaction was "this is it?"
So when you combine these factors together, what do you get?  I think you get a unique brand for Estes Park.  This is the city that isn't "putting on the Ritz" for tourists.  They are what they are – a breathtakingly beautiful area that is comfortable in their own skin.  They don't need to become something different for anyone.
Estes Park.  Colorado au natural.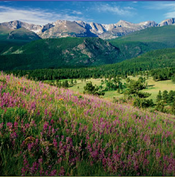 The copy surrounding the brand promise and the user experience can celebrate the "negatives" that makes Estes Park different from the ski areas and other mountain resort towns. It's certainly already earned its reputation for being one of the most beautiful areas of the state.  The wildlife literally can be seen strolling down the main drag. And the residents are already set for their role.  This already how they behave and come off. The people that I met are very proud of how rustic and rugged Estes Park is.  They chose it because they wanted to get away from the noise and put on glamor of places like Sundance.  They like that they're different.  And I think many visitors do too.
If you've been to Estes Park, how does this jive with your experience?  If you haven't been there before, how do you react to this positioning?
Did you play along?  What recommendation would you make to the city?
Check out what the rest of the BrandingWire posse had to say and get more high-voltage ideas at BrandingWire.com.
Olivier Blanchard
Becky Carroll
Derrick Daye
Kevin Dugan
Lewis Green
Ann Handley
Gavin Heaton
Martin Jelsema
Valeria Maltoni
Drew McLellan
Patrick Schaber
Steve Woodruff