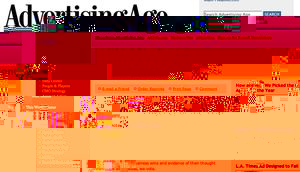 Following in TIME's footsteps, AdAge announced that the winner for their annual agency of the year award is YOU. Well not quite YOU. They defined it as "The Consumer" but basically you win again!

Read more about their choice and rationale and hear from the Editor's POV why the stories like Lonelygirl15 and the Mentos/Coke experiment swayed their decision.
In case the articles are not evergreen, here are PDF versions.
Download adagestory.pdf
Download adageeditor.pdf
But here's what I am wondering. So what? From your perspective, is it just nice validation for those early adopters who are blogging and YouTube? Does it change the way you intend to market your business?
Should it?