Like many of you, I own my own business. I have employees, clients, vendors, peers. Love them all. But there are times when I still feel a bit like the lighthouse operator — out there all alone, trying to shine my light in the right places.
That's why I have a posse. They keep my passion at full tilt, they keep me sane, they offer me comfort, support or a kick in the pants — depending on what I need. Each owns a marketing agency like I do…so they know the road I travel. Each is brilliant and each one has helped me build and grow my business.
Twice a year, we physically gather (the picture is us in Jackson Hole, WY a couple weeks ago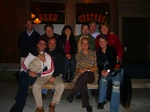 ) to spend two days sharing best practices, learning and laughing together. In between our gatherings, we connect through a list serv, the phone and shared projects. We've been together for 6+ years now. They're not just my business advisors and sounding board — they're my friends. They all own marketing agencies throughout the country. You'll find them in San Diego (Market Design Group), San Francisco (Gumas Advertising), Denver (AOR), Philly (Altus and 2010 Design), New Hampshire (Bedford Granite) and Washington DC (Fixation). And of course, there's us in Des Moines, IA. If you need an agency in one of these geographical areas, you will find none better.
But here's my real point. I've got mine, do you?
Who do you surround yourself with? Who pushes you to be better? Who can you share everything (including financials) with and know you're safe?
If you don't have a posse, you need to find one. If you want to create one from scratch, I highly recommend the book Meet & Grow Rich by Joe Vitale and Bill Hibbler. It's about creating what they call MasterMind groups. Posse…MasterMind. Potato…Potato. I don't care what you call it. I just care that you think about getting one.