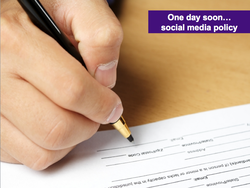 One of the hottest topics in social media today is the idea of companies developing social media policies, much like HR policies. Companies may not be able to control what their employees do on their personal social networking accounts (Twitter, Facebook, etc.) but they can certainly outline potential consequences.
Here are some examples of what other companies are doing.

Social Media & Blogging Guidelines

Examples on the Web
POLICY EXAMPLES
And here's a huge database of social media policies (gathered by Social Media Governance)
Finally, here's a post from Mashable — 10 must haves for your social media policy.
Thanks to these posts for sourcing some of the guidelines. 123 Social Media and ChristyWeb